JOHN C. RICOTTA & ASSOCIATES, INC.
REAL ESTATE SALES
VACATION RENTALS
1181 MAIN STREET CHATHAM, MA 02633 SALES: 508.945.5000 RENTALS: 508.945.0440
Rental Rewards
John C. Ricotta & Associates is proud to partner with some of our favorite local restaurants and businesses to offer great discounts and freebies through our rental rewards program. In-season renters will be given one coupon for every Rental Reward listed below upon check-in! Check out the interactive map below to see the location of each Rental Reward business.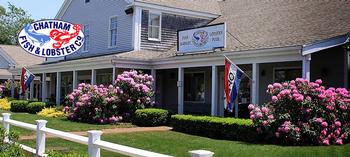 Chatham Fish & Lobster

10% Off Fresh Cut Fish - Stop in and visit Paul and Eileen at Chatham Fish & Lobster where you will find the freshest, highest quality seafood caught daily from Cape Cod waters. Chatham Fish and Lobster has been a Cape Cod tradition for many years at our original location on Main Street in West Chatham and also at our second location in Ring Bros. Marketplace in Dennis off of Route 6 at exit 9. Come in and take home everything you need for a Cape Cod style meal!
= Rental Rewards